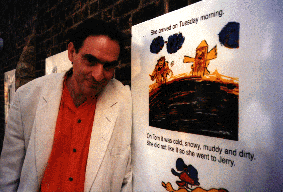 AN AMERICAN artist living in London, RANDY KLEIN is not only an established sculptor but a print maker of some repute. In 1994 Kedar Editions published a suite of prints to complement his limited edition art book - il supermercato - an allegory for the contemporary search for spirituality. The book, silkscreen printed in black and hand-coloured, has been published in an edition of 100 and comes with an optional piece of sculpture - a shopping trolley in which it sits. The four prints which represent the highlights of the book, each published in an edition of 50, have been silkscreen printed with between 8 and 10 colours.
Our latest collaboration has been on the publication of his art book Ferragosto , a story of a strange trip in Italy which results in mythological transformations. The book has been entirely screenprinted in an edition of 110 and is complemented by sculpture - a suite of prints on the theme is to follow shortly.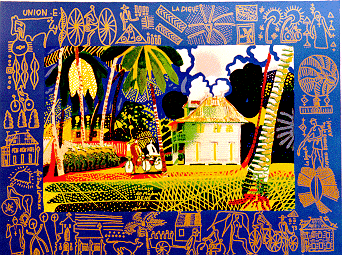 MICHAEL ADAMS lives on the Seychelles and his work reflects the rich cultural and natural heritage of the islands of the Indian Ocean. He has been commissioning work with us for around 20 years. Now Kedar Editions is about to release a new suite of 3 prints based, not on the islands but, on a visit to Nice - Nice I, II & III.. We are also able to offer a small selection of his work on the islands - ie. Seychelles and Mauritius. These prints - Keta, La Caze de Mme. Renee, Keta & Glacis - provide a tiny glimpse of his work. The vast bulk of his prints have been commissioned and catalogues are available through us on request.
| Kedar Home Page | Print Editions | Artist Books |
| About Kedar & Ordering Information |
| Loddon Displays Commercial Screenprint |